SANFON
---
Shandong Linyi Sunny Wealth Chemicals. Co. Ltd Çin'de bulunan en önemli antioksidan üreticileri arasındadır. Sunny Wealth sadece antioksidantlar üzerine üretim yapan ve bu konuda uzmanlaşmış bir üreticidir.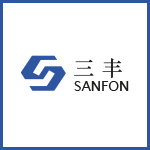 Plastik sektörünün her alanına hitap eden geniş bir ürün yelpazesine sahiptir. Antioksidanların en önemli görevi polimer malzemeyi ısısal oksidasyonun yıpratıcı etkilerinden korumak ve bu sayede kullanım ömrünü uzatmaktadır. Bu tür bir koruma polimerlere, ısısal işlem, fabrikasyon, depolama ve de oda sıcaklığı uygulamaları süresince gereklidir. Ürün bilgilendirmesi için görsele tıklayabilirsiniz.
Shandong Linyi Sunny Wealth Chemicals Co.,Ltd is a company integrated of scientific research, production, sales and service. It is one of the top antioxidants suppliers in China.
Currently the company has three sites. Its products include alkylphenol, hindered phenolic antioxidants, phosphite antioxidants, compound antioxidants and granular plastic additives. The company has antioxidant production capability of 22000t/year, alkylphenol production capability of 26000t/year, and can also produce different compound stabilizers according to customers' specific needs. Now, the company has been equipped with advanced granulation installations, and can provide the customers with series of granulation additives.
The company is a new and high-tech company in Shandong. It has passed the conformity assessment by ISO9001、ISO14001、OHSAS18001 system, and has first-class production process, perfect detection method and advanced controlling equipment. The brand "Sukang" has been accredited as "the famous trademarkof China"and"the famous brand of Shandong"."Sukang" antioxidants was rated as "the famous product of Shandong".In recent years, the company has many achievements of technology in antioxidants. The products of antioxidant 1010 and 215 are respectively evaluated as "national major new product" in 1998 and 2001, antioxidant 626 has been listed in "National Torch Program", and the program of alkylphenol has earned a support of the "Innovation Fund for Technology Based Firms".The company attaches great importance to the intellectual-property protection, by the end of 2015, the company has applied sixteen patents,has fifteen patents authorized.